The History of Wanneroo Fire Support Brigade
The Wanneroo Support Brigade was part of the Wanneroo Volunteer Bush Fire Brigade with the Fire Control Unit (now Incident Control Vehicle), original Fire Support Vehicle and Mobile Canteen run by the Brigade's members. However, a more dedicated and separate brigade would make running these vehicles more effective and efficient while playing a specific, specialised support role. For the history of the Wanneroo Volunteer Bush Fire Brigade please visit the Brigade's History Page. 
In April of 2003 the Fire Support Brigade conducted it's first brigade meeting. This was after 3 years of work by a dedicated team to get the brigade up and running. A Fire Control Unit (bus), collar tank and mobile canteen had been acquired in that time. 
The Brigade began with a Captain, a Lieutenant and a Secretary. It's initial role was to run the collar tank, mobile canteen and communications at incidents making use of Battleboards and T cards.
Darragh Wills, the original Captain of the Support Brigade, said that incidents can be affected by poor control and flow of information. This is why the Wanneroo Support Brigade is so important. Co-ordination and communication are vital in the extinguishing of any fire no matter it's size.  
Initial action h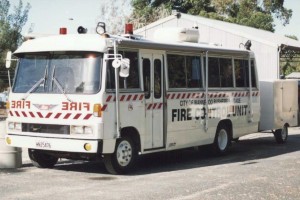 ad to be taken by the brigade in redeveloping a 'state of the art' Fire Control Unit come Incident Control Vehicle (ICV), increasing brigade membership, developing new and additional systems and procedures, and orientating other Brigades of the City in the role, strategy, systems, procedures and activity of the Support brigade and integration of these systems.
The Incident Control Vehicle was installed and refitted with thousands of dollars worth of Electrical Equipment, financed by Lotteries funds. The Exterior of the ICV was also altered in terms of emergency striping and attachment of whiteboards etc. 
The Brigade's Mission was and still is to 'provide support to the Command, Control, Coordination and Communication and the operational activities of the Wanneroo Fire Services, and for other organizations, events and activities as required'.
After 2003 the Brigade eventually developed the following capabilities : 
Establishment and administration of forward control in dedicated and non dedicated vehicles and facilities as required
Development and maintenance of communication plans and systems
Tracking of resources on the fire ground or at an event or activity
Displaying accurate and detailed information and conducting briefings as required
Ensuring medical support plans are in place
Provision of initial level 2 welfare support at incidents
Contribution to Incident Action Plans around an incident or event
Establishment of water resource plans and delivery systems and support
Support of helicopter water bombing operations including site management for water pick up, provision of collar tanks for pick up and refueling
Provision of initial cause and origin operational support and origin site control
Provision of direct independent operational safety advice to the operational command structure
Tracking of seasonal variations and weather impacts, and reporting regularly to all brigades on season trends
Tracking of operational turn-out activity and reporting regularly to all brigades on this activity
Tracking the cause of fires and reporting regularly to all brigades on fire cause
The fire support brigade has become larger and plays a major role in the control and co-ordination of activities and incidents. It was and is deployed :
As a forward control team where resources of the City involve more than 6 trucks and crews at an incident, activity or event or with a likely duration of more than 4 hours (using either in the FSV or ICV).
As a water resource management team when a fire is attended to in a location where reticulated water is scarce or when more than 6 trucks and crews are attending (using the FSV and Trailer).
As a collar tank crew when helitacs are mobilised to any fire in the City of Wanneroo (using the FSV and Collar Tank).
As communications support (using the ICV) when it is known or discovered that communication is difficult resulting in an inability to either :
-Communicate by mobile phone
-Communicate with 6IP or 6AR (the DFES Communications Centre)
-Communicate on a repeater channel clearly across the fireground
-Unable to identify a second repeater channel to communicate across the fireground
-Communication within sectors is not possible
As a planning support, communication support or Divisional command support team as required in support of another service or area (using the ICV).
In specialist functions such as 'Brigade Operations Safety Officer (BOSO) (Team)' or 'Cause and Origin Survey Officer (CAOS) (Team)' as required (using the FSV) 
As a specialist team of competent fire fighting and fire support personnel, anywhere as required (using the ICV or FSV). 
Since 2003 the Brigade has grown. It now utilises three (3) appliances/vehicles which include the Incident Control Vehicle (ICV), Fire Support Vehicle (FSV) and the 12, 000 litre 12.2 Bulk Water Tanker. The brigade still deploy and run the collar tank trailer and mobile canteen. 
| | | | |
| --- | --- | --- | --- |
|  New Incident Control Vehicle |  Old Incident Control Vehicle  |    New Fire Support Vehicle    |   Old Fire Support Vehicle     |
| | | | |